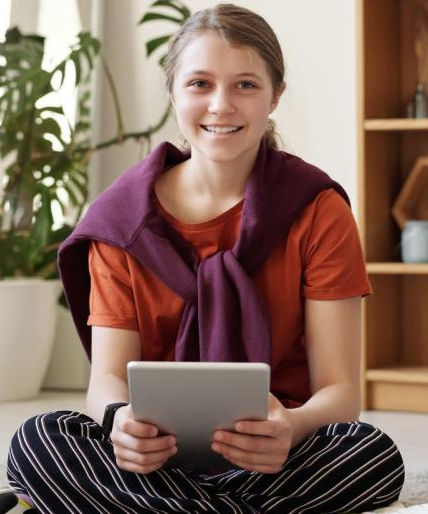 By Jason Kenner of onparent.com
Teen Businesses Can Boom
If you're a teenager thinking about starting your first job, you might be intimidated. After all, the only successful people out there are in their 30s and older, right? No! There have been many very successful businesses founded by teenagers, including Dell, Facebook, and Subway. While you might not strive for this type of success, it is possible to create a business now to help you pay for a car or college or to give you a head start in saving for adulthood.
Today on the Classical Homeschool Curriculum blog, we look at a few businesses you can start and how to make it a success.
Identifying Your Strengths
We all have strengths and weaknesses, and we can look at these as just one guide that can help us decide what we want to do. Are you a talented artist? There are many people willing to pay for murals on their children's bedroom walls or in their businesses. Great with math? Tutoring is in demand. Enjoy being outside, you might start a lawn mowing business, which has the potential to expand into a thriving lawn care company. If you're not sure what your strongest attributes are, you can take a test online that will help you see yourself a bit more clearly.
No matter what you choose to do, make sure that it is something that you're passionate about. It should also be profitable enough so that you are not spending more money than you're making on expenses, such as transportation and raw materials. It's also a good idea to evaluate your idea to make sure you can raise capital (money for startup) until you can gain enough momentum to become independently profitable.
Why Start A Business?
Aside from the obvious benefit of creating your own allowance, there are many reasons that it makes sense to start your own business as a teenager. Admissions consulting company Crimson explains that entrepreneurship looks great on a college application and, importantly, gives you a chance to learn from your own mistakes.
Easy Business Ideas For Teens
If you're not sure what you want to do, here are a few ideas to get you started:
● Babysitter
● Junk removal
● Voice over actor
● Pet sitting
● Running errands
● Housecleaning
● Vehicle detailing
● Photography
● Social media manager
Best Business Practices
No matter which type of business you choose to launch in your after-school hours, make sure that you get set up legally. This means forming an LLC or other business entity. You also want to talk with your parents about opening up a bank account. While the Young And Invested blog notes that you must be 18 (or the age of majority in your state) to open an account on your own, you can open a checking or savings account with a parent. This is smart as it allows you to keep accurate records of incoming and outgoing funds.
Something else important to remember is safety. When you're running a business, you may not be able to bring your parents with you all the time. But, a responsible adult should always know where you are. If your phone supports the "SOS" feature, make sure that that is enabled. You can also go into business with a friend or family member so that you do not have to be alone if your business requires you to go into people's homes.
There are many different ways that a young entrepreneur can find success. But, no matter what you choose to do, prioritize your studies first. While there is nothing wrong with wanting to earn some money for yourself or help support your family now, your education will prepare you for college, and you have to make time to study for your exam before you apply.