Kindergarten is a lovely stress free time to ease your way into formal curriculum and build beautiful memories with your child. But not all children are ready for kindergarten. Here is a great article to assess your child's readiness for kindergarten Is Your Child Ready for Kindergarten?
I've structured this page for those who like to piece together their own curriculum but I know there are a lot of people (seems like most I encounter) who just appreciate to find a trusted curriculum that will package it all together for them in a box for a reasonable price. If that is you, this is my best recommendation: Memoria Press Classical Core Kindergarten Complete Set.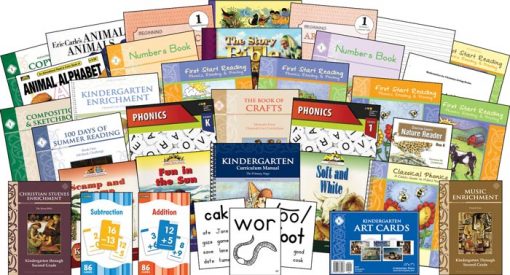 For those eclectic folks who like a bit from this and a bit from that, look down below to get ideas from my best suggestions from varying different curriculums. All curriculums mentioned below I have used and loved.
First Things First
Benjamin Franklin believed the crux of all education before 8 years old was to give children a thorough education in their native tongue in the art of reading, writing, and spelling. I heartily agree with him. If we, during these early years, teach our children how to speak well (they learn this effortlessly by listening to you speak well), how to read well (and starting in first and second grades, how to spell well), and teach them to be well mannered, obedient, and respectful, then we have done very well. But first things first, let's start the process of teaching them how to read.
Phonics is the classical way. Woe to those who tried to teach the terrible "look say method" that permeated the early to mid-1900s. Many children struggled and failed to read because of it (see my article on Phonics). Thankfully most schools and all classical curriculum have gone back to phonics. I grew up in the late 1980's early 1990's and we were taught phonics in school. A good phonics curriculum is key. Here are some of the best:
Phonics
This is a robust, simple to use Phonics curriculum, as well as they will learn to spell and write as they read.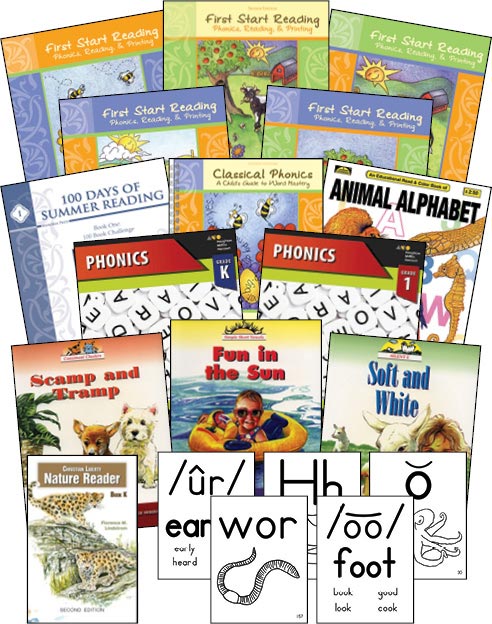 OR A Beka Phonics (Their Method is based on Noah Webster's Blue Back Speller)
Christian Studies
Math
Memoria Press Kindergarten Math
Memoria Press uses some of the books they have published themselves but supplements most of the teaching with Rod & Staff math (a different publisher).
This is the curriculum we use and it's my top choice, however, I know a lot of classical moms who love the very simple Rod & Staff method (see above) that focuses on drill and repetition. Math U See methods can be very different than what we were taught but the changes are always improvements. Lessons are very short. Math doesn't take very long and builds in a mastery style progression.
Handwriting Practice/Copybook/Composition
Enrichment (Art, Music, Composer Study, Poetry, and crafts) and Read-A-louds
This section is my very favorite. I love our enrichment time together. The Kindergarten Enrichment Guide (shown below) will take you through all listed in a beautifully ordered fashion through out the course of the year, I highly recommend it. Truly, this is good for any age, not just kindergarteners.
Art Study
Arts and Crafts
Poetry
Read-Alouds
Literature is fundamental to a strong classical education. Reading aloud to your children is one of the best gifts you can give them. A reading program like the one below will help your child develop a taste for quality literature from an early age. Children delight in listening to the rhyme and wordplay of poetry. These books are selected because they are beautiful in their art and prose. You'll never regret the investment in building your child a library of beautiful books.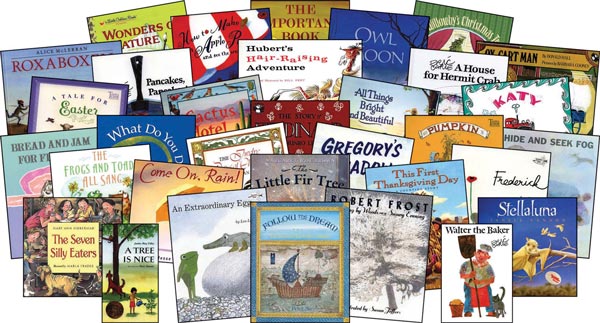 After extensive reading and research, Leigh Lowe (author of Prima Latina, and wife of President of MP, Brian Lowe) has personally selected each of these books for our Kindergarten Read-Aloud Set as her top favorite read-alouds for the primary years (and I can tell you right now some of these are my favorite children's books too!). These stories not only motivate children to become great readers, but they also teach them about history, geography, holidays, science, and more!
These books are used every week in the Kindergarten curriculum but are not included in the core package (see picture at very top). You can find most of them at your library or can purchase them all as a set or individually here:
Science
Science at this age is really just trying to create a sense of wonder through observing the world around them. Good books are the best way to do this. Children will soak up the information through a wonderful story. All books below coordinate with the enrichment set above when using the Memoria Press Kindergarten Enrichment Guide Book. ex: They'll read a wonderful story about a fish, read a poem about a fish, hear a famous water piece by a famous composer, look at an art card that features a water and fishing scene and then they'll read a couple of the books below that talk about fish and aquatic animals (in homeschooling we call this a unit study).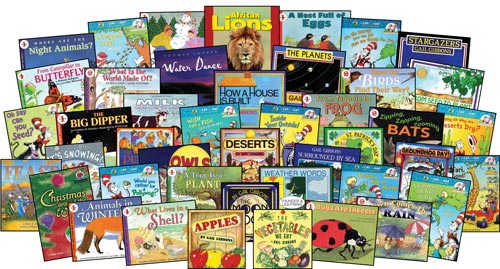 These books are used weekly as science books and coordinates with the read-alouds but they are purchased separately. You can find many of them at your library or purchase them all as a set or individually below: