I've structured this page for those who like to piece together their own curriculum but I know there are a lot of people (seems like most I encounter) who just appreciate to find a trusted curriculum that will package it all together for them in a box for a discounted price. If that is you, this is my best recommendation: The Memoria Press Classical Core Curriculum Set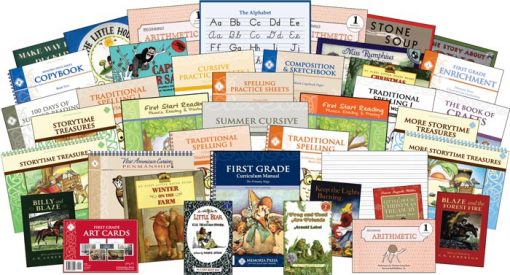 Note: You can also customize the above set if your child needs different levels: First Grade Customizable Complete Curriculum Package
But if you are more eclectic and prefer to piece things together yourself, check out the lists below:
Phonics and Spelling
I have grouped phonics and spelling together because in this curriculum they go so hand in hand. While learning spelling they are learning the phonics card and reading from the Classical Phonics word grouping lists (if you don't have those from Kindergarten you'll need to order the "new user add on set" to get those items). It is a very effective way to learn phonics and all my students at my cottage school and my own children as well are excellent readers at an early age.
Reader, Penmanship, Phonics
Spelling and Phonics
Readers
Additional Reading Practice
Primary Phonics Readers (Sets 2-6)
Math
Cursive, Manuscript/Penmanship, Writing Practice
Enrichment
Enrichment covers Art Study, Crafts, Music (classical), and excellent Read-A-Louds, Poetry
Art
Music
Poetry
If you don't have these 2 books from kindergarten you'll want to get the "new user add on set"
Read-A-Louds
Literature is fundamental to a strong classical education. Reading aloud to your children is one of the best gifts you can give them. A reading program like the one below will help your child develop a taste for quality literature from an early age. Children delight in listening to the rhyme and wordplay of poetry. These books are selected because they are beautiful in their art and prose. You'll never regret the investment in building your child a library of beautiful books. (I classify these as "good books" – for what makes a "good book" read my blog post here).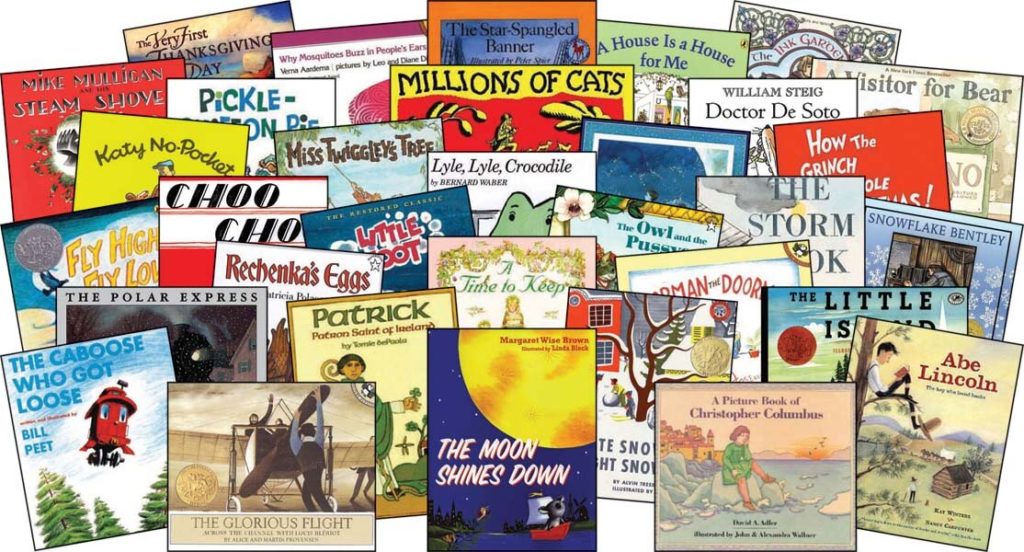 After extensive reading and research, Leigh Lowe (author of Prima Latina, and wife of President of MP, Brian Lowe) has personally selected each of these books for our Kindergarten Read-Aloud Set as her top favorite read-alouds for the primary years (and I can tell you right now some of these are my favorite children's books too!). These stories not only motivate children to become great readers, but they also teach them about history, geography, holidays, science, and more!
These books are used every week in the 1st grade curriculum (see picture at very top) but must be purchased separately. You can find most of them at your library or can purchase them all as a set or individually here:
*Denotes hardback
Science
At this age the best way to learn science is through "good books". The kind that are enjoyable, written by one author (not a conglomerate like in a dry textbook) and create a sense of awe and wonder. The below books coordinate in a lovely way with the above literature read-a-louds. The first grade Memoria Press curriculum guide tells which to read on what days and is already all planned out for you: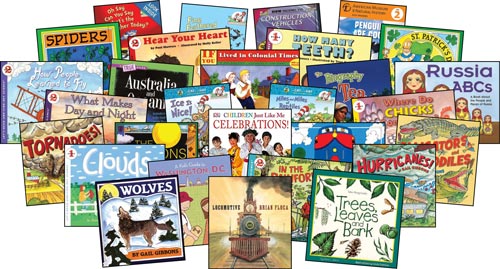 These books are used weekly as science books and coordinates with the read-alouds but they are purchased separately. You can find many of them at your library or purchase them all as a set or individually below: