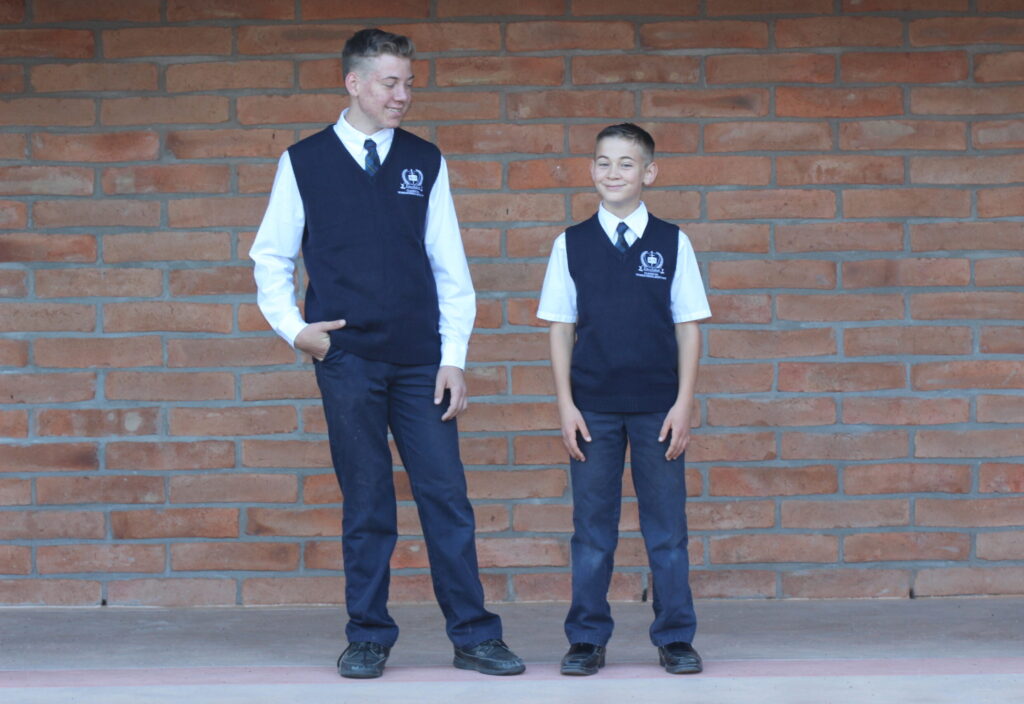 Curriculum
We use a variety of curricula, Memoria Press being one we use frequently. It is a classical Christian curriculum and their Latin is the best of all that is out there. We have enjoyed it greatly. Their composition, logic, grammar, and literature is also exceptional. In 8th+ we use Apologia Science for its conservative Christian worldview. For whichever classes you enroll in you will receive a book list. You can order through Excelsior or find the items on your own. We try to keep the book list small. In many classes all they will need is a notebook. In Apologia science classes it is imperative to have the newest editions (as the older editions are completely different).
The Role of Excelsior in Your Homeschool
Excelsior exists to provide accountability (in the form of moving through the curriculum together and "done-for-you" checklist lesson plans) as well as community, to provide fun and engaging classroom time where students will learn to love and enjoy their subjects and make lifelong friends.
Excelsior serves to empower parents to be the primary teachers (which is the state of Arizona's definition of homeschooling). We usually won't use class time to proctor tests (we leave that to the parents at home if they desire). All assignments are optional and suggested, we leave that to the parent's discretion. If a student demonstrates mastery in that week's lesson, perhaps they do not need to do the homework assignment and that is the parent's prerogative to choose what serves their child's time best. We give no grades at Excelsior (with the exception of Composition, students may turn their final drafts into their teacher for their critiques and a grade).
It is important to note, there are some subjects we won't cover altogether and we leave them for you to do at home (such as Math – we play Math facts games in Primary School and then in the Grammar and Upper Schools we leave Math for home).  In other subjects you will primarily be the instructor (such as Composition – we will teach the first two days, but either you, or the DVD video instructor, will teach the remaining days.  The students are expected to come ready and have completed the assignments the previous week so that they can continue on.  And there are some subjects that we cover completely at Excelsior and require no at home time.
Upper School
7th through 12th grade is what we call our Upper School. It is a time when they build on all they have learned in previous years and begin the processes of thinking logically in their writing and oration, working towards developing excellent rhetoric (the ability to speak and write well and persuade). They will achieve mastery in 1-3 classical languages through which they will develop their minds and have a thorough understanding of the English language.
To honor this time in life, and all that they have accomplished we give them an advancement ceremony at the beginning of the year where they receive their new uniforms. The Upper School students are given blazers and the girls now wear a new uniform, trading in their jumpers for skirts, Peter Pan collars for Oxford shirts, and Mary Janes for Penny-loafers. All of the children are excited for this important milestone when they graduate from Grammar School to Upper School.
We typically don't refer to students by "grade" but refer to the classical model of students working in levels based on their abilities. No two students will learn the same or at the same time. There are students who are advanced and parents can opt to choose classes that fit best for them (such as grade level higher or the option to go to a lower grade where appropriate is fine too).
Our fervent desire is to serve and bless the families at co-op. We achieve this goal by completing an entire day of instruction in core subjects.  As added accountability and to make homeschooling as simple as possible, you will be given a lesson plan checklist that takes you through the curriculum week by week.  And the best part is we do the curriculum together, in community (and we have a lot of fun!)  
Upper School Class Schedule
7:45 AM
Students arrive and assemble for Morning Assembly
8:00 AM
Pray, Pledge to the Flag and Bible, Hymn, Announcements, Manners/Etiquette Lesson, Dismissed to classes
8:20
Bible Class and Bible Verse Recitation
9:00 AM
Latin We sing hymns in latin and recite grammar forms together and then begin our daily assignment.Latin must be completed in order.  You begin in First Form and progress: First Form, Second Form, Third Form, Fourth Form, Henle II, Mueller's Caesar (de Bello Gallico), Ovid (Latin), Vergil Latin (AP Class)
10:00
Composition
The Progymnasmata (the Greek method, also used by Romans, Shakespeare, Thomas Jefferson and more) is 14 steps that lead to excellence in composition, rhetoric, and oration. Students all must begin at Fable, but they can move quickly through each book to "catch up" if desired:
Fable (Step 1), Narrative (Step 2), Chreia/Maxim (Steps 3 & 4), Refutation & Confirmation (Steps 5 & 6), Common Topic (Step 7), Encomium, Invective, & Comparison (Steps 8-10), Characterization and Description (Steps 11 & 12), Thesis and Law (Steps 13 & 14)
10:30 AM
Horatius
The Iliad & The Odyssey
Aeneid or Logic I
Greek Tragedies (by Aeschylus, Sophocles, Euripides)

Hebrew I (for 11th/12th)
11:00 AM
American History (The Story of the Great Republic, Story of the World IV + Primary Source Readings, Memorize 200 key facts
World Geography III (brief review of Geo II)
Biology and Lab (Apologia)
Romanticism through Neoclassical Age Literature and Poetry
The City of God (St. Augustine)+ The Republic and the Laws & On Obligations (by Cicero)
11:30 AM
American Literature or Greek I
Early Church History (Primary Source Readings and Text)
The Divine Comedy by Dante Alighieri
12:00
Gather for closing prayer and Doxology hymn, Lunch
1:00 PM
Book of the Trees/Intro to Biology (7th)
Physical Science and Lab (8th grade Apologia)
British Literature
Chemistry and Lab (Apologia) prerequisite Algebra I
United States History AP (1491-Present) for 11th/12th
1:30
Greek II
2PM
Dismissal
High School Sample Coursework
(suggested 27 credits for graduation)
| | | | |
| --- | --- | --- | --- |
| 9th | 10th | 11th | 12th |
| Theology and Classical Studies I | Theology and Classical Studies II | Theology and Classical Studies II | Theology and Classical Studies II |
| English I:Composition, Logic I & II, Literature & Poetry | English II:Composition, Material Logic, Literature & Poetry | English III:Composition, Divine Comedy | English IV:Composition, Classical Rhetoric, Literature & Poetry |
| Math (Algebra I or higher) | Math | Math | Math |
| Latin (First Form or higher) | Latin | Latin | Latin |
| PE* | Art* | Greek | Hebrew |
| Biology | Chemistry | Physics | Advanced Science (ex AP Biology) |
| Renaissance and Reformation History (1300-1600AD)** | Medieval History (300AD-1200AD)** | Modern European History (1600AD to late 1980s) | American History (1615AD-1980s) |
| | | Suggested SAT prep prior to Oct of Jr year if want to compete for National Merit Scholarship | |
*Subjects can be combined over four years if only once a week.
***From 7th-10th in History and Classical Studies (the Bible, Ancient World, Ancient Greeks, and Ancient Romans) we will have covered a majority of the Western World's most important history.
Note: World History and Government:
If your wishlist college requires a "World History course" consider adding a summer study of 1200AD-current times of major events around the world.
If your wishlist college requires Government consider taking a summer school class during the summer going into Senior year – such as a summer dual enrollment/concurrent at ACU for low cost: (ex they offer HIS 212 7/4-8/28 for $195)
Pay attention to college requirements of which college you are attending – they all have different requirements. This suggested course above is considered rigorous and would satisfy any college, even the most difficult. But if your child attends a less rigorous college you could opt out of some course and do more electives.
Curriculum:
Below are links to see the Memoria Press curriculum. The only subjects not present that we have used are Apologia Sciences (found on Apologia's website).
7th grade:
This is the 7th grade curriculum we use.
8th grade:
This is the 8th grade curriculum we use.
9th grade:
This is the 9th grade curriculum we use.
10th grade:
This is the 10th grade curriculum we use.
11th grade:
This is the 11th grade curriculum we use.
12th grade:
This is the 12th grade curriculum we use.
---