I've structured this page for those who like to piece together their own curriculum but I know there are a lot of people (seems like most I encounter) who just appreciate to find a trusted curriculum that will package it all together for them in a box for a reasonable price. If that is you, this is my best recommendation: Memoria Press Sixth Grade Classical Core Complete Set.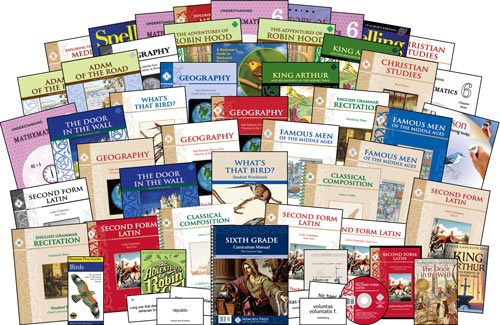 For those eclectic folks who like a bit from this and a bit from that, look down below to get ideas from my best suggestions from varying different curriculums. All curriculums mentioned below I have used and loved.
Concerning Latin: Students should complete First Form Latin before moving to Second Form.
Concerning Composition: Students should complete Classical Composition I-II before moving on to Classical Composition III: Chreia & Maxim. Please consult our Classical Composition Sequence Chart if you have any questions.
Supplements:
*Denotes hardback

We focus on geography in grades 3-6 in our Classical Core Curriculum because it is beneficial for students to know where the historical events they study take place in the context of each other. But we realize that the grammar school years are a great time to introduce American history too. So we offer four sets of American biographies and novels as a supplement to our 3rd through 6th grade Classical Core packages.
Sixth Grade Set Includes:
If this is your first year using our Classical Core Curriculum, you will need to purchase this set in addition to the Sixth Grade Curriculum. It includes resources that were included in previous year packages.
Set includes:
Timeline Student Flashcards
Timeline Wall Cards
Timeline Handbook
Timeline Composition & Sketchbook
Poetry for the Grammar Stage Student
Poetry for the Grammar Stage Teacher
Poetry for the Grammar Stage Anthology
English Grammar Recitation
English Grammar Recitation Flashcards
Golden Children's Bible
Geography Flashcards
Memory Verse Flashcards