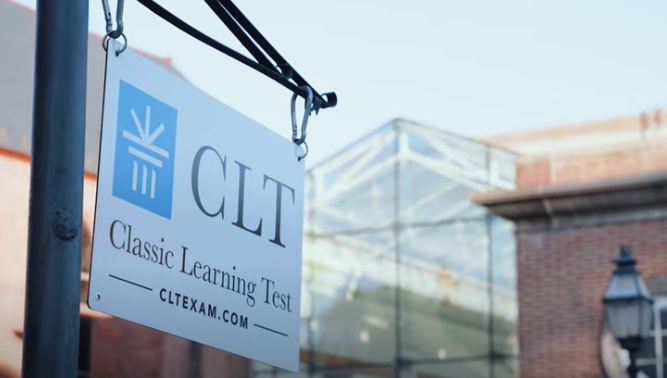 This is very exciting, finally a test that is designed to test the knowledge that we have been teaching our classical homeschool students. While you don't have to be a classical student to take this test, students of all backgrounds will vastly prefer this test as it is not boring and tedious. "The classic in Classic Learning Test refers to its use of the greatest and most enduring texts that have informed and shaped society. Although these texts are featured prominently in a classical education, the CLT instead emphasizes intellectual aptitude and achievement, by no means limiting itself simply to a classical curriculum." (CLT website)
The Classical Learning Test (CLT) is designed to be a better alternative to the SAT and ACT. Taking only half the time it measures things that actually matter. And so far an impressive list of colleges and universities have given their thumbs up and approved its usage. Colleges like Wheaton, Hillsdale, The University of Dallas, The King's College in NY.
Some professors have said:
"I warmly commend CLT for giving colleges and universities the option of a standardized examination that eschews ideology and impartially tests knowledge and reasoning ability."

Dr. Robert George
McCormick Professor of Jurisprudence
Princeton University
"Based on the data currently collected and the analyses I have conducted on that data, I believe that colleges and universities can confidently use CLT scores for admissions decisions, and that the CLT will perform just as well as the SAT or ACT. CLT scores are highly correlated with both SAT and ACT scores, and correlate remarkably well with freshman GPA. Both of these are indicators that the CLT possesses high validity as well as reliability."

John T. Vessey
PhD, Department of Psychology at Wheaton College
As an alternative to the SAT and ACT, and is accepted by one hundred and fifty colleges across the country; many colleges that accept the CLT are offering academic scholarships to high-scoring students.
As a nice bonus, they allows you to send your tests to as many schools as you like (which normally costs extra with other college entrance exams). The test utilizes modern technology and can be taken online (while SAT and ACT still use paper only) and they have omitted the science section. I find this to be a huge improvement. As many classical students are Christians are not taught the Darwinian evolutionary propaganda (or at least to the extent that the common core would dictate) you find yourself between a rock and a hard place as you have to teach them how to answer the questions "correctly" on the SAT and ACT as this kind of stuff does show up in it. The CLT is a real game changer as it allows parents to not feel compelled or pressured to teach things that conflict with their beliefs.
How to Prepare for the CLT
The CLT is the main test, the one designed for high school juniors and seniors preparing to apply for college. To prepare for this test there a two others your student can take.
The CLT10 is an alternative to the PSAT and the ACT Aspire, and serves as preparation for the CLT itself. "The CLT10 is a free online preparatory exam for the CLT designed for 9th- and 10th-graders. It can be proctored by a parent at home or taken in-school at participating institutions. The test takes approximately two hours to complete, and it assesses English, mathematical, and critical reasoning skills. Students receive their scores within 24 hours of the test closing, and they can instantly share them with an unlimited number of colleges and universities for free. There is also an optional, ungraded, thirty minute essay portion. The CLT10 provides students with the opportunity for recognition and, for top scorers, a scholarship to a CLT partner college. Trigonometry is not included on the CLT10, and there are fewer questions of the highest difficulty level. It is designed for high school freshmen and sophomores. Registration is free. Students who score in the top 1% on the CLT10 are eligible for a $2500 scholarship through our ties with the National Association of Scholars." (from CLT website)
The CLT8 is designed for 7th and 8th grade students, and evaluates elementary mathematical, grammatical, and literary reasoning. Its format is the same as the CLT and CLT10, and thus helps students prepare for these tests. As it only just came out recently, I plan on having my 9th graders take this test after we complete our school year and then at the end of their 10th grade year we'll take the CLT 10.