There is no rush to begin formal school. The best thing you can do for your junior kindergartener is to spend lots of wonderful time together. Cook together and count how many scoops of flour go into the bowl. Get out and see lots of nature; animals, flowers, trees-develop a love for God's creation and exploration. And read together. Reading has been a favorite pastime of many a classical mother in this century and many before. Develop a love for reading early on, but especially a love for reading of the Bible. Practice discipline and teach your children manners and to be respectful and to obey.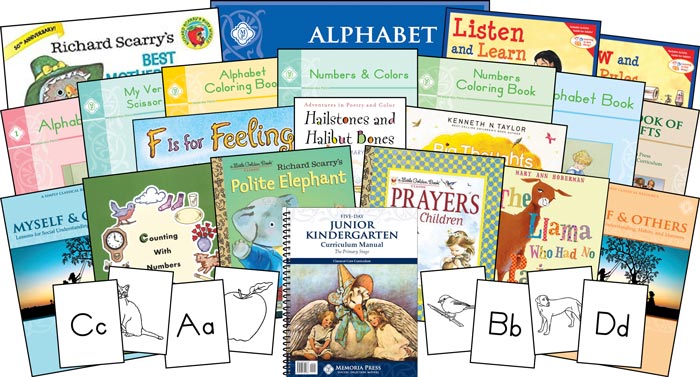 I've structured this page for those who like to piece together their own curriculum but I know there are a lot of people (seems like most I encounter) who just appreciate to find a trusted curriculum that will package it all together for them in a box for a reasonable price. If that is you, this is my best recommendation: Memoria Press Junior Kindergarten 5 day a week Complete Set.
(Memoria Press also makes a 2 day per week Junior Kindergarten set and the biggest difference is it does not contain any of the manners books. I prefer the Junior K 5-day only because the lessons are so short anyway so it's not like it's taking a ton of your day, and my daughter loved doing it she was glad for more!)
For those eclectic folks who like a bit from this and a bit from that, look down below to get ideas from my best suggestions from varying different curriculums. All curriculums mentioned below I have used and loved.
You can also purchase curriculum individually here
Christian Studies/Bible Curriculum
A Beka Bible Curriculum
Most think of A Beka as a traditional school type curriculum – and some of it is – but their phonics and Bible curriculum is very classical. I have used it with much success.
Junior K Bible Memorization:
Please note, some children will be able to memorize Bible verses better than others. Give this time. Memory is a muscle and a skill that we all build. If memory verses take time, that's just fine. But also, don't assume they can't do this. Many children can if given the task to learn a verse, with time, repetition, fun (songs can help), children will store up God's word in their hearts at a very young age.
Literature/Read-Aloud's
Literature is fundamental to a strong classical education. Reading aloud to your children is one of the best gifts you can give them. A reading program like the one below will help your child develop a taste for quality literature from an early age. Children delight in listening to the rhyme and wordplay of poetry. These books are selected because they are beautiful in their art and prose. You'll never regret the investment in building your child a library of beautiful books.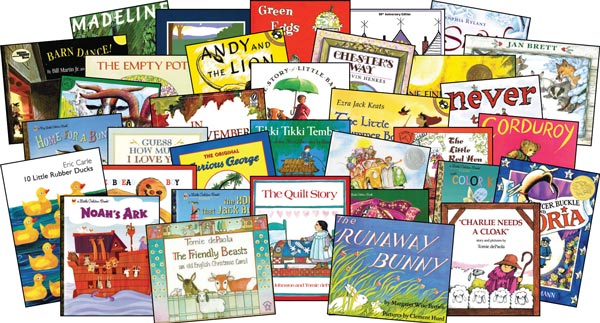 This read-aloud set is needed weekly for the core package at the top, but is not included in the package (because some people may already have these books or want to get them at the library) but you can purchase them as a set here or individually below. The prices are very competitive with Amazon.
Poetry
Beginning Phonics
A Gentle Introduction To Letters
Math
Counting, shapes, size, number formation, also includes color recognition
Science and Community Lessons
The Junior K Curriculum Manual not only includes lessons for all the books in the picture at the top but it also guides the parents in weekly discussion of scientific topics. Such as what is a reptile? Or an amphibian? When we read Madeline (see literature/read-alouds above) we discuss what it is like to be sick in a hospital and make cards for sick children as well as learn how the post office works. It is provides excellent teaching lessons into topics they will dive much deeper into in the coming years.
Manners Lessons:
Arts and Crafts
Book of Crafts, Junior Kindergarten
Scissors Practice
For Parents
Phonics from A to Z provides reliable, accurate, and common sense advice as well as extensive lists of resources that will ensure that you can teach reading successfully. This is the best resource on teaching phonics and reading we have ever found. Highly recommended, especially for parents of multiple children that may need multiple strategies to meet the different needs of all their children.