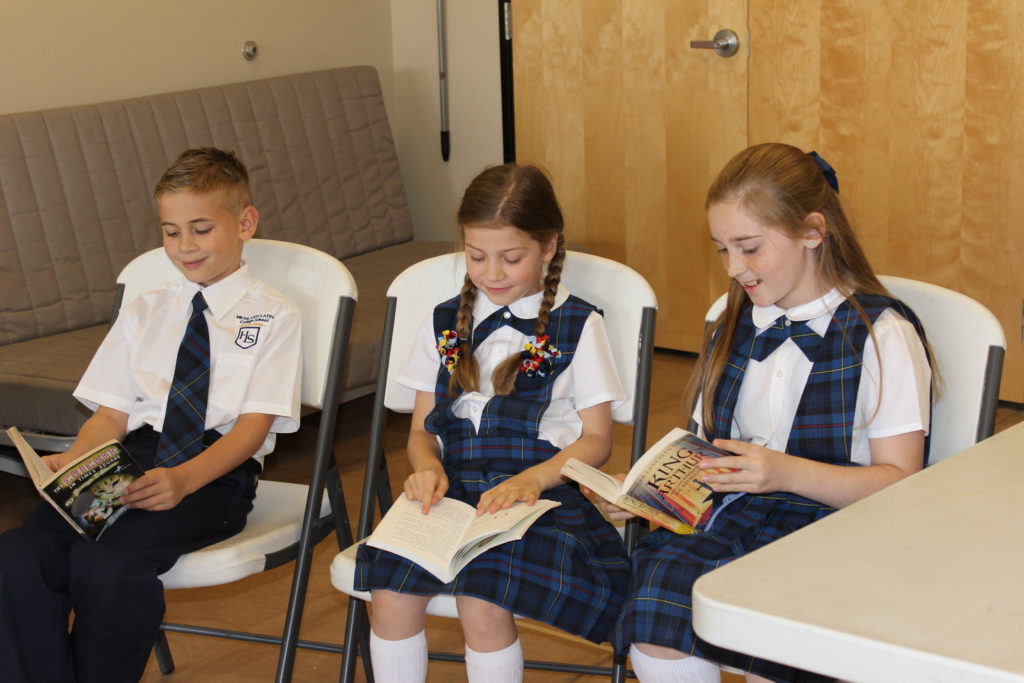 We will follow the MP homeschool guidelines in catalog. Parents can opt to choose classes that fit best for them (such as grade level higher or lower where appropriate). Our fervent desire is to serve and bless the families at co-op. We plan to have the day be a blessing by knocking out a lot of your core academics for Memoria Press Day 1 in the core curriculum guides.
What about subjects not covered?
We don't cover all subjects in the core guide. I would heartily recommend not trying to go home and do more school though. Everyone is going to be spent after being out for half a day, playing outside in the sun, and driving home. If at all possible, find places where you can combine or trim or cut out redundancy. For instance, depending on the grade, we may not cover cursive or spelling, but I wouldn't recommend you go home on Monday and make them sit down and do more work just to feel like you fully "checked off" day 1. Personally, I would find a day I could trim and combine, or if you thought it possible for your child, cut out an unneeded day entirely. Let the curriculum serve you, and not the other way around. Reach out to us and we can always brainstorm together what would work best for you.
Also worth noting-because we don't cover all subjects you still need to fit them in at home. Such as science. That is mandated by Arizona to be taught so be sure you are fitting it in at other times during the week.
Our schedule will be from 7:45am-12pm*
Lunch is 12-1pm (don't be late for pickup!)
3rd grade:
7:45am: Students arrive and assemble for Chapel
8:00am: Chapel, Christian Studies, Recitation
9:00am: Latina Christiana Part I/Ludere Latina/Grammar
10:00am: Intro to Composition
10:30: Geography: States and Capitals
11:00am: Classical Studies: D'Aulaires Greek Myths
11:30am: Science (Mammals)
12:00pm: Lunch
1pm: Pickup
4th grade:
7:45am: Students arrive and assemble for Chapel

8:00am: Chapel, Christian Studies, Recitation

9:00am: Latina Christiana Part II/Ludere Latina Part II/Grammar

9:45am: Classical Composition I: Fable

10:30: Geography: States and Capitals

11:00am: Classical Studies: D'Aulaires Greek Myths

11:30am: Science (Astronomy)

12:00pm: Lunch

1pm: Pickup
5th grade:
7:45am: Students arrive and assemble for Chapel

8:00am: Chapel, Christian Studies, Recitation

9:00am: First form Latin/Lingua Angelica

9:45am: Classical Composition II: Narrative

10:30: Geography I (and US States and Capitals Review)

11:00am: Classical Studies: Famous Men of Rome

11:30am: Science: Book of Insects/Math Drill

12:00pm: Lunch

1pm: Pickup
6th grade:
7:45am: Students arrive and assemble for Chapel

8:00am: Chapel, Christian Studies, Recitation

9:00am: Second Form Latin

9:45am: Composition

10:30: Geography II (and Geography I Review)

11:00am: Classical Studies: Famous Men of Middle Ages

11:30am: Science: What's That Bird (Semester 1) and Nature's Beautiful Order (Semester 2)

12:00pm: Lunch

1pm: Pickup
---
*I know this timing sounds early in the morning for some…and we can consider this each year and what works best for the group…but the advantages of going to bed early and waking up early and getting done early are so wonderful. Breakfast can be something simple eaten in the car on the way. If clothes and lunches are prepped the night before you can very nearly just wake up and leave. The real downside to starting later, at 9, is we can only do 3 hours before lunch at noon, or we have to do an extra hour from 1-2pm. Afternoon coursework can be such a drudgery, especially for children and to ask them to compose themselves and muster up the ability to sit still, especially for this age group, is a difficult task to ask of them. Also, as a teacher, I know I am pretty well spent after lunch too. To stay any longer is a real chore. I highly recommend doing a half school day always! To learn more about that read my blog post on dealing with "difficult" children, particularly point #2 about "bored children"