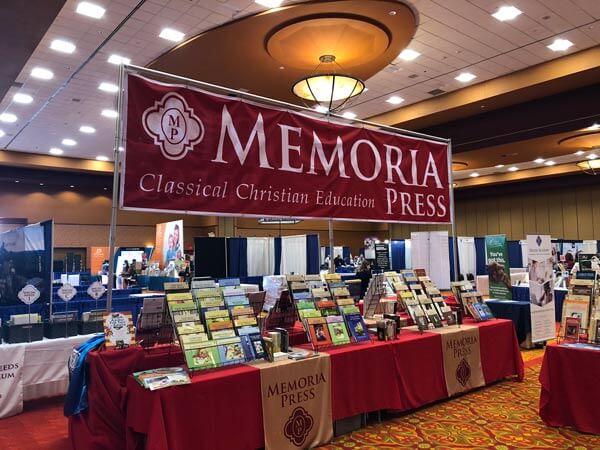 Corona virus can't keep us down! Friends, I have to share the coolest thing with you–Memoria Press (at this moment–and all Friday and Saturday) is doing a virtual homeschool convention! You sign up here (it's free!) https://www.memoriapress.com/2020-conventions-calendar/
And you'll instantly get sent links to go to the curriculum fair or to the speaker lecture. The speaker is speaking right now and they'll be done with lectures for the evening but the curriculum fair will be open a little longer and then all Friday and Saturday.
I chimed in on booth and the technology is amazing! It uses zoom (also free) and at the curriculum fair they can generally answer questions or transfer you over to a staff member who can show you the curriculum up close, flip pages, answer questions. SO cool!
Times below are in Eastern Time (they are 3 hours ahead of us in AZ)Free shipping if you shop from the curriculum fair too btw.

Virtual booth hours will be:
Thursday, March 19 5:00 p.m. to 9:00 p.m. EDT
Friday, March 20 9:30 a.m. to 8:00 p.m. EDT
Saturday, March 21 9:30 a.m. to 5:30 p.m. EDT
Convention Talks
March 19 @ 7:00pm EST
10 Reasons Your Homeschool May be the Best Place for a Child With Special Needs
Cheryl Swope
Homeschooling offers key advantages to struggling students and children with special needs. Discover why your home school may be the best possible choice for your child. Learn how to make your homeschool even stronger.
March 20 @ 8:30am EST
Literary Formation: Twelve Great Christian Novels and Why You Should Read Them
Martin Cothran
Two Russians, two Englishmen, two Frenchmen, three Americans, a South African, and a Norwegian … walk into a bar. Not really. But they do come together in this list of the greatest Christian literary works of the last two centuries. It is a list that includes two Learn why these books are great and how it can be that, as someone once said, the worst Christians write the best Christian books. Learn which are the best translations and why it is okay to listen to them as well as read them (along with who are the best readers).
March 20 @ 11:30am EST
Classical Education for Special Needs & Struggling Learners
Cheryl Swope
We often think of classical education for highly verbal children, but what about children with dyslexia, autism, adhd, or intellectual disability? Does a classical education have anything to offer such children? Hear answers from a mother with a master's degree in special education, who homeschooled her adopted twins (autism, specific learning disabilities, and mental illness) "K-12" with a classical education.
March 20 @ 1:00pm EST
Classical Education in an Age of STEM: Why a Curriculum That Spurns Practicality is the Most Practical Curriculum
Martin Cothran
An increased focus on science, technology, engineering, and mathematics (STEM) is now seen as the way out of the education crisis by many educational policymakers. It is only the most recent manifestation of the stress on vocationalism in our schools. But is the narrowing of the focus of our curricula really the answer to our educational woes? And is the abandonment of a focus on the arts and humanities the best way to accomplish even the goals of the STEM movement? Learn why classical education's focus on the liberal arts and the traditional humanities not only makes for better human beings, but provides the best foundation for any career. And learn how best to articulate this vision to your parents and your community.
March 21 @ 8:30am EST
Classical Christian Education: Beautifully Defined
Cheryl Swope
For all of its popularity, there must be more than stages, rote memory, and the ancients, right? Have you ever heard what is at the heart of a classical education? Hear simple explanations to unpack key words that will delight the newcomer, challenge the skeptic, and remind those in classical education why you began doing this in the first place.
March 21 @ 11:30am EST
In Defense of Western Civilization
Martin Cothran
One of the chief purposes of education is to pass on our cultural heritage. American culture is the product of the cultures it grew out of: those of Athens, Rome, and Jerusalem, which were completed and transformed by Christianity. This is the cultural heritage we mean when we say "Western civilization." But Western civilization has come under increasing attack from modern political ideologies that claim they have something better to offer. Learn why the arguments against Western civilization fail, why it is important, and how we can pass it on to our own children.
March 21 @ 4:00pm EST
What Good Are Labels? Unraveling the Puzzle of Your Struggling Child
Cheryl Swope
Learn how to unravel the mystery of your child's difficulties. Hear why an accurate, thorough diagnosis and treatment plan can change everything for your child. Time for Q&A will be provided.