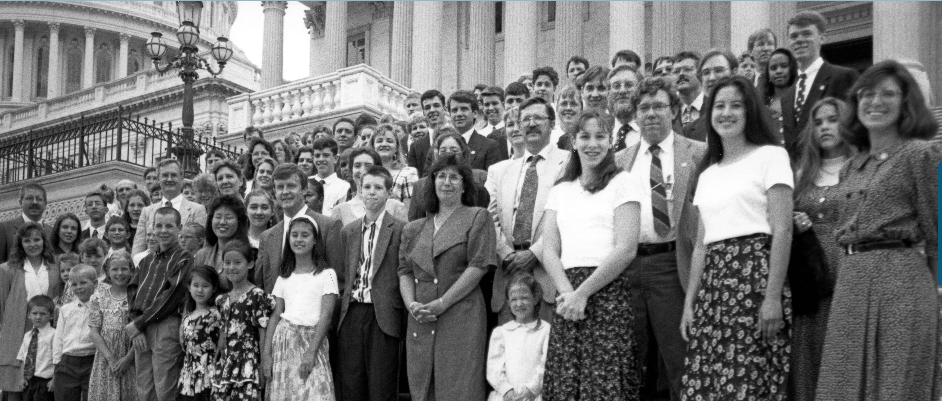 I am often reminded of the shoulders of giants that we stand upon. When we hear a knock at the door during school hours, we don't have to tell the children to run and hide because it could be CPS doing a check to make sure we aren't "illegally homeschooling." When we choose our curriculum in AZ we do it without oversight or fear of any testing requirements.
One of those giants I wanted to mention is Mike Smith, the President of HSLDA (Homeschool Legal Defense Association). It was just announced that he has retired. What a difference he has made these last 40 years to homeschoolers! Not just in America, but to even those persecuted in other countries for homeschooling. If you are new to homeschooling, that name may not mean all that much, but to myself and so many others, he is one of the greatest heroes in home education. The work he has accomplished on behalf of all of all homeschooling Americans and the legacy he has left, is equivalent to me of so many federal officials that have statues erected in their honor and schools named after them. That may never happen for Mike Smith but he will be honored and remembered in the hearts of so many.
Mike Smith began his life's calling when he fought to make homeschooling legal back in the 1980's. This was when homeschooling wasn't legal in all the states and moms were even being put in jail. I first heard him speak when he was the keynote speaker at the AFHE homeschool convention (this is our annual Arizona conference). Hearing his stories, and the stories of the persecuted mothers, brought me to tears and changed my life. We can never forget how hard these liberties were fought, so that we can enjoy them so freely today. Arizona is one of the best states in America to homeschool in! What a gift we have been given. But with giants like Mike Smith retiring, others must pick up the torch and carry on. We must all do what we can. Mike Smith shared some parting words of wisdom in the latest HSLDA magazine:
"I think the legislature is where our battles are really going to be fought in the future—in fact they're being fought there now. The way the opponents will try to change homeschooling—to take away the educational liberty that makes homeschooling effective— is not through the courts, because by and large, the courts agree that current laws support homeschooling freedom. No, those who want to increase regulation and reduce homeschooling freedom, generally speaking, seek to change laws."
-Mike Farris, The Homeschool Court Report 2nd Quarter 2022
I wanted to share with you a really inspiring story about some more heroes whose shoulders we stand upon- the Arizona homeschooling mothers of 1991. They are likely grandmothers today, but it was their resilience and dedication back in 1991, with Mike Smith and HSLDA and Tom Lewis from AFHE, that paved the way for the freedoms that would be gained for us. 1991 was really the year the tide started to turn in favor of homeschooler's rights. They all went in masse (with their children!) down to the Arizona State Capitol to politely and respectfully protest government overreach.
"When Children Tell Their Own Story"
by Mike Smith, Former President of HSLDA
"If homeschool teachers without teaching credentials can teach children to score 30 percentile points above the average on standardized achievement tests, why aren't we paying them for their teaching?"
This question was raised by an Arizona legislator in the middle of a hearing on a bill that would have required additional regulation for homeschoolers. The hearing room, packed with homeschooling families, burst into applause.
But his comment that meant the most to me was this: "I haven't been a legislator for long, but during my tenure, I have never seen young people so attentive and respectful as these kids."
Homeschooled students are the most effective testimony for homeschooling that we have. We see this very clearly in the legislative lobbying arena.
The bill before the Arizona House Education Committee was slated to be second on a very full docket that day in 1991.
The already-packed hearing started at 8:30 a.m. HSLDA had sent out an alert to let Arizona homeschoolers know about the opportunity to attend the hearing, and we packed the hearing room so full that they didn't even have enough room for us! Families and children spilled out into the hallway at 8:30 in the morning, but they didn't hear our bill until noon.
The first bill received its hearing, but the committee inexplicably skipped our bill—although we could surmise that the chairman and the author of the bill might have intended to stall the vote, hoping the the kids would just tire out and we would leave. But these kids were very well-behaved , and we persevered and our bill finally received a hearing a little after noon.
When they called our bill, a representative from the Arizona Department of Education approached the mic to advocate for the bill. After she finished her argument, the education committee members had the opportunity to ask questions. Our friendly new legislator gripped his microphone.
A Little Background
I had flown out the day before to testify against the bill. After being picked up by Arizona Family Home Educators [AFHE] lobbyist and homeschool dad Tom Lewis, we drove to the legislature to speak to the members of the education committee who would be hearing the bill the next day.
We didn't get to speak with any of the members personally, but we did leave letters explaining why the bill was not needed, and a brochure explaining that homeschoolers scored, on average, 30 percentile points above their public school counterparts on standardized achievement tests (homeschoolers were testing on average in the 80th percentile while public schoolers averaged in the 50th percentile).
We didn't know if any of the education committee members would look at our materials, but this was all we could do. It seemed that the freshman legislator was the only member conscientious enough to prepare for the hearing by reading about both sides of the issue.
Back to the Hearing
Finally, the hearing for the homeschool-regulation bill came around, and the committee called on the department of education's representative to give their pitch. After the department's brief, five-minute presentation, the first-year legislator held up our brochure and asked if the department of education, "Have you seen this information about homeschoolers and how well they do?" She hadn't, so the legislator read how homeschoolers tested better than public school students and asked if the department had any reason to doubt the results. The education official refused to give a straight answer. And that's when our legislator opined that homeschooling moms should be paid because they were so successful.
The audience started clapping like crazy! Then he complimented the homeschool kids in the audience for their model deportment during the four-plus hours in that hearing room, "I also want to add some congratulations: this is the best-behaved audience I've had since I've been with the legislature." I believe their behavior had as much to do with his support of our position as had the favorable statistics, which resulted in our eventual success in that hearing.
After that, the bill was quickly withdrawn. This is what we homeschoolers can accomplish together, but we have to be ready to meet the challenge when is arises in the state legislatures.
Tips for Taking Your Children with You to the Legislature
There's an old saying for politicians: if you get the children and dogs on your side, you'll never lose an election.
Our experience taught us that legislators both like children and like talking to children. So we encouraged families to bring their children with them when they visited Capitol Hill.
The legislators and their staff members would almost always engage the children in conversation, typically asking if the kids liked homeschooling, why, and what their favorite subjects were. When students answered confidently and met the questioner's eyes, the legislators and their teams were impressed.
The families that participated in CAP told us that the times they spent preparing and visiting Congress were some of their greatest experiences ever. If you and your children take an educational trip to the legislature, here's a few tips for how to winsomely and effectively make your family's voice heard:
Dress up, clean up, and prepare questions for the legislator, both personal and job related.
When you tell them that you are a homeschool family, feel free to share why you're homeschooling—personal stories are always best!
Manners matter—if your children can conduct themselves appropriately, feel free to take them on the trip! If not, consider allowing them to mature a bit more before introducing them to your legislator. Do your children enjoy homeschooling and talking about their homeschool experience?
Be sensitive to the legislator's busy schedule. After the visit, consider sending a letter thanking the legislator and the office staff for the visit—tell them how much your family valued the opportunity!
If you are there to address a specific piece of legislation that impacts homeschooling, always bring a position paper that you can leave with your legislator. (We can help you with that! Feel free to contact us.)
Don't bring gifts—it is unlawful in many states for legislators to accept gifts of any kind.
Family interaction with your elected officials benefits everybody. You will learn a lot, you will bond as a family, and the experience may inspire your children to become even more politically active. And you will be advancing homeschooling and homeschool freedom, which not only helps your family and children, but also future generations that choose to homeschool.
Our freedom to homeschool now and in the future is in your hands. How your legislators view homeschooling—positive or otherwise—will be shaped by their interaction with you.
This story is told by Mike Smith in the HSLDA Homeschool Court Report, August 1, 2019 and 2nd quarter 2022 cover story (pg. 18 in the printed magazine).
Consider joining HSLDA, for your own protection (they are our homeschool defense lawyers) as well as to support all that they are doing on a state and national level: hslda.com/join