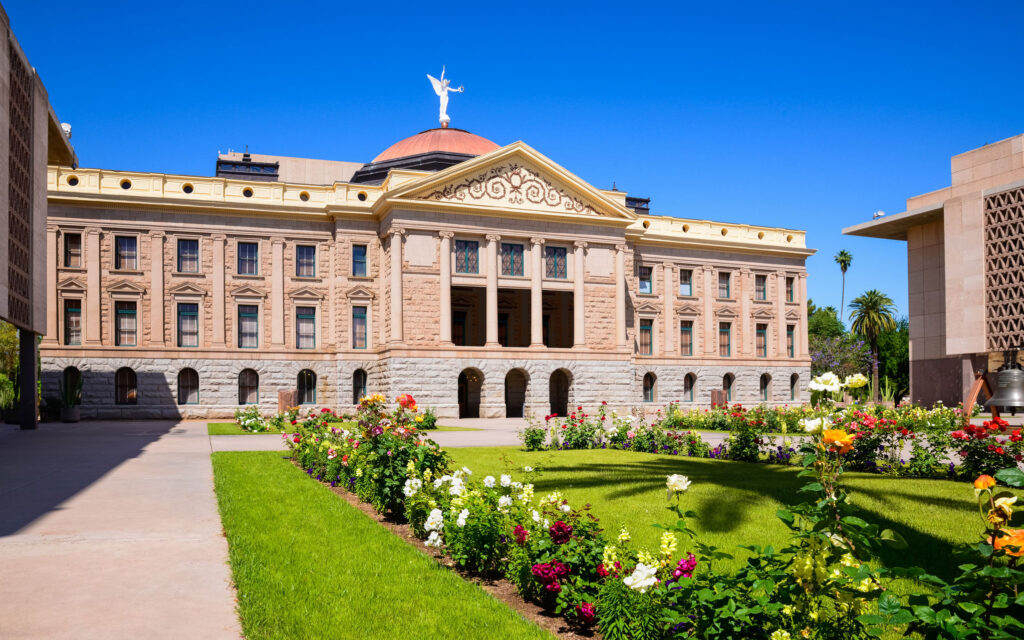 We truly have the best homeschool law in the nation. Our law is so wonderful because it is simple and straightforward. If you want to homeschool all you need to do is say you will and file the affidavit. There's no testing, teachers or school districts checking up on you, no curriculum or instruction review.
But it was not always so. The original 1912 state statue required education through the eighth grade must be accomplished by a "competent teacher". As homeschooling started to gain momentum it was decided that a "competent teacher" meant that the teacher (or parent) must be "state certified."
In 1982, this meant that the parent doing the schooling (so in most of our cases this would be mom). They were required to take and pass the Arizona Teachers Proficiency Examine ("ATPE") to become legal homeschool teachers.
Now the ATPE consisted of three modules of reading, writing and arithmetic, and you could only take it every quarter and its location rotated from ASU, to NAU, to U of A. So you could be a parent in Flagstaff and depending on which state university had the turn of being the test facility you could end of driving to Tucson. If you unfortunately failed one of the three modules, you'd have to wait for another three months to test at the next location. And of course homeschoolers had to pay for the test.
Tom Lewis, AFHE's legislative liaison (who worked tirelessly with Mike Smith, also a hero) recounts stories from the past 40 years as he worked to shape the image of homeschooling from unsocialized "weirdos" to well-rounded, achieving future citizens:
"There were some crazy misconceptions about homeschooling…In one debate on the House floor in 1982, a legislator asked, "Why are we having this discussion? After all, the children belong to the state." At that point, Representative Jim Skelly of Scottsdale leaped to his feet and said, "I beg to differ. Children are a gift from God for parents to raise." On another occasion, when ritualistic cattle killing were filling the headlines of the Arizona Republic and Phoenix Gazette, a legislator asked me, "Mr. Lewis, how many home schoolers drink blood and do animal sacrifice?" Wow! How do you answer such an absurd question…. three?"
Moms continued to study and take the ATPE and actually did exceptionally well. Lewis also remarked,
"Not surprisingly, these home schooling moms out performed university education graduates who had spent thousands for their degree. And those degrees were a bargain in the '80s compared to today! The homeschooling moms outperformed the college grads by preparing with a $2.95 book entitled, Studying for the GED."
In time, the parent testing portion became more accommodating and thankfully, and by 1993, the ATPE was revoked.
But that didn't eliminate all the testing. The students still had their share of the standardized testing (which of course is a heavy burden on the homeschooling parents too). There was only one test to choose from and again, not surprising, homeschoolers had to pay for it. Back then most testing publishers would not sell their tests directly to homeschoolers so they were forced to find a public or private school that would allow them to come test.
The test results were subjectively evaluated by the County Superintendents, each having their own criteria (there was no standard). If they found "concerns", they would then appoint an independent evaluator to determine whether academic progress was occurring. And homeschoolers had to pay for the evaluations too.
There were of course those who chose to civilly violate the law and skip out on the ATPE or standardized testing. But violation of the law came with penalties: court appointments, fines, and even jail time for some homeschoolers. In 1991, Tom Sidar, a resident of Apache Junction, was the last Arizona citizen to be jailed for the crime of illegally homeschooling.
But it was also in 1991 that opinions began to shift and the tide started to turn in our favor. Tom Lewis (AFHE) and Mike Harris (HSLDA) fought hard at the AZ State Capitol. One silver lining was with all those standardized tests homeschoolers were forced to take, we were able to prove to the legislators that we were outscoring public school counterparts by 30%! (See Mike Smith's story above).
In 1993, the legislature removed the requirement that parents pass the ATPE, replacing it with a requirement that parents must have a high school diploma or GED. This requirement was also later removed.
From 1995–1999, the law evolved into what we have today: which is the best homeschool law in the nation! The wins achieved during that time were:
In 1995, Senator John Huppenthal sponsored Senate Bill 1348, which completely removed the testing requirement from the homeschool law. No more student testing! On the same bill there was a provision that homeschooled students to participate in sports in their local public schools.
Four years later, in 1999, House Bill 2129 strengthened this law by requiring that public schools allow homeschoolers access to their sports.
Also in 1999, a 17 year-old homeschooled student named Bethany Lewis wrote the bill in her Youth and Government program that would allow homeschool grads to have access to scholarships at our three state universities. It became known as "Bethany's Law.
And now in 2022, H.B. 2853, sponsored by Rep. Ben Toma, passed by Governor Ducey, expands the E.S.A. (Empowerment Scholarship Account) which gives $6,500 for all students in grades 1-12 (kindergarten homeschool students receive approximately $4,000), and this includes homeschoolers. This essentially creates a new category of homeschoolers that was never had before. There will be the traditional homeschoolers that remain under affidavit, and then there will be a new category of ESA homeschoolers who will become contract ESA students (and not participate in the affidavit). At this time all extensions, benefits, and protections of the traditional law have been replicated in the new ESA contract law and homeschoolers under this new category will have no additional requirements. But as in all things, for all times, we must remain vigilant and active in our government to make sure that the laws stay that way.
I hope this short history of homeschooling in Arizona will motivate us all to protect this great homeschooling law that we have inherited. Let us protect it for ourselves, and for the sake of our children, and our children's children.